THE GLOBAL TEACH-IN MISSION STATEMENT
The Global Teach-In is a research and educational organization dedicated to developing and disseminating a coherent program of policy reforms and institutional reconstruction.  Global Teach-In's mission is to transform existing political and economic arrangements, which concentrate wealth and power, perpetuate militarism, and threaten ecological and climate stability.  These negative outcomes are part of a cycle of scarcity, violence and misallocation of resources that aggravates other problems like unemployment, racism, government surveillance, and a weakening social welfare system.  Solutions to these problems do not readily occur because of the gaps between leaders, the traditional large corporate sector, the mass media and established experts on the one hand and citizens, social needs and a critical, solutions-focused dialogue on the other.
We view the creation of viable alternatives as a process requiring a new kind of collaboration involving scholars, activists, and office-holders at the local, regional, national and global levels.  We pursue this mission by organizing global teach-ins using cyber-conferencing technology, podcasts and associated radio programming.  We also maintain a website that hosts the latest version of our transformative program and an archive of policy papers and videos of Teach-In proceedings.  The teach-ins serve to disseminate our program as a framework for interdisciplinary, international communication.  We update our website periodically based on the ideas and information communicated during teach-ins, while maintaining and improving the coherence of our core program: a Green New Deal, demilitarization, and the formation of locally controlled enterprises.  This program informs the research and activities of teach-in participants, who in turn inform updated versions of the program, enabling us to think and act on multiple levels from the local to the global.
***
Here are some presentations from the Global Teach-In which took place on April 25th, 2012!   Don't miss Jonathan M. Feldman's interview on the Keiser Report (taped December 18, 2012, broadcast December 29, 2012).  Create a peoples' economy: Here's How!
What's new for 2014? The Global Teach-In will launch a new series of radio programming on demilitarization, sustainable economics, economic democracy, and social transformation.  Stay tuned to this page for details!
Combat the rising movement towards the extremist right in Europe, find out how here.  This movement is based on long-term trends which many leaders in politics, the media and university have failed to address.
***
(The original teach in was a live video conference, here we present some of the audio, video and written presentations from the event.)
PART ONE: AUDIO PRESENTATIONS
Gar Alperovitz, US, Speaking on Economic Democracy
Pam Brown, US, Speaking on Student Debt
Ellen Brown, US, Speaking on Alternative Banking
Colin Hines, UK, Speaking on a New Political Agenda
Read some of the testimonials about the Global Teach-In here!
PART TWO: VIDEO PRESENTATIONS
Bill McKibben, US
Portland Oregon, US
Burlington, VT, US
Edinburgh, UK
PART THREE: WRITTEN PRESENTATIONS
Read the presentation by Lloyd J. Dumas about "Democracy, Technology and Alternative Planning," here.  Read about Brian D'Agostino's new book here.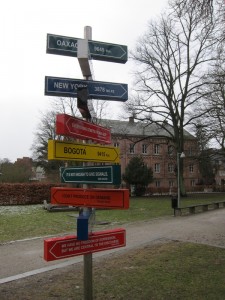 The Global Teach-In took place simultaneously in seven countries and multiple cities, starting on April 25th, 2012 at 12:00 Noon Eastern Daylight Time.  This interactive and participatory event included discussions by experts, grassroots activists and citizens at large concerned about developing solutions to policy problems and creating alternative institutions.  The Teach-In involved face-to-face deliberation, teleconferencing and an internet-based broadcasting network.  Local teach-in groups already exist or are in formation.  We encourage you to contact us at globalteachin [at] gmail.com or find us on Twitter and plan for organizing local teach-ins in your community!
 Teach-In Locations & Some of the featured speakers.
FINAL Working Schedule for the Global Teach 25 April 2012
Read about how to promote economic democracy at the United Steel Workers blog here and the critique of everyday economics at Counter Punch here.